GSM bug. Sounds a bit scary doesn't it?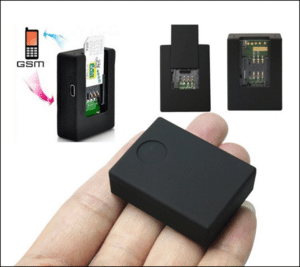 Is it detrimental to your personal health? 
No, but it is detrimental to your personal privacy. It is an electronic surveillance device.
How a GM Bug Works
Think of a GSM bug as a striped down cell phone. No keypad. No speaker. No screen. It is just a transmitter, a microphone, usually a battery, and sometimes a miniature video camera. Just add a SIM card and this electronic eavesdropping device is ready to spy.
The important thing to know is that a GSM bug leverages the power of the international cellular telephone system. The bugger can listen-in, and watch if video equipped, from anywhere there is cellular phone service.
Activation features can be extensive. Basically, all device types can be activated by calling the phone number associates with the device's SIM card. Some can automatically alert the eavesdropper when they sense sound in the area, motion near the device, or movement of the device itself, as when it is used in a vehicle.
GSM Bug Types
There are several models of GSM bugs. The most common ones being sold have a self-contained battery. These are used as temporary, quick-plant eavesdropping devices.
Other models are made for permanent placement. Placements and disguises seem to be limited only by imagination. You can find them in motor vehicles, desk phones, speakerphones, and power strips. Anything which has its own power source can also power a GSM bug… indefinitely.
GSM Bug Special Features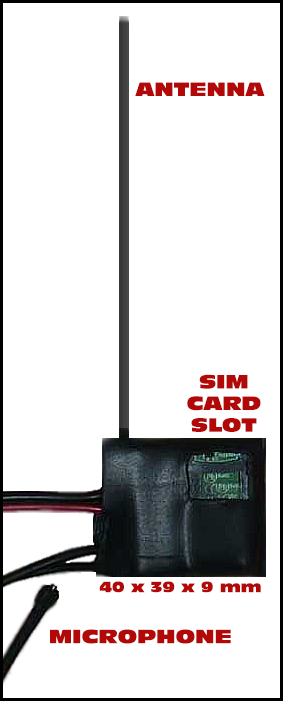 A more sophisticated GSM bug might come with some or all of these additional features…
The ability to take still photos when triggered via SMS and sent them as MMS messages.
Standby time of 12-15 days, with a working time of 3-5 days.
Recording of audio and video to an internal SD memory card.
Reporting of GPS location upon receipt of an SMS order.
Infrared motion detection.
GSM Bug Price & Availability
It wasn't that long ago when a surveillance device of this type was only available to governments and law enforcement, at a cost of thousands of dollars. Times have changed, dramatically.
A GSM bug can now be purchased on the Internet. Outlets include eBay, Alibaba, Amazon, hundreds of "spy shops," and even through the Walmart website. Anyone with access to the Internet, and approximately $10. to $30. dollars, can now spy like the professionals, and they do.
Q. So, how many of these GSM bugs are out there?
There is no definitive count on the number of GSM bugs manufactured and sold. However, one manufacturer on Alibaba says they can ship 10,000 bugs, per month.
GSM bugs first made news in 2007. Doing the math at 10,000 bugs per month, that's about 1,320,000 bugs, just from one factory in China. The list of manufacturers on Alibaba alone seems endless, and there are other manufacturers worldwide.
Is a GSM Bug Listening to You?
The answer is probably no, unless you are more interesting than the average person.
Things which make you interesting include:
An active romantic relationship.
A dying romantic relationship.
A wishful romantic relationship. (stalker)
Your inherent appeal to a voyeur.
A lawsuit.
Anything to do with business competitiveness.
Celebrity status.
Merger and acquisition activity.
Co-worker competition.
Target of activists.
Anything to do with politics.
Nosy neighbors.
Special intellectual property knowledge.
New business venture.
Blackmail potential.
Revenge.
An adverse publicity potential.
Boardroom strategies.
Trade secrets.
If you made the list, read on.
How to Find a Covert GSM Bug
Finding a GSM bug is not easy without the proper instrumentation and knowledge to use it. GSM bugs spend most of their lives in an inactive state.
If you are a private individual you may want to start your education by reading Eavesdropping Snoops – The Average Person's Guide to Stopping Them.
If your situation is business related start by reading Corporate Bug Sweep | TSCM Methodology, Corporate Counterespionage Strategy, and Executive Suite Security Considerations for Information Security and Operational Privacy.
There are some high-end GSM bug detection instruments made by companies like: shearwatertscm.com, bvsystems.com, and intpro.co.uk. Low-end gadgets are sold as well, but their effectiveness is questionable, and the range of possible eavesdropping techniques they may detect is limited.
In either case, a do-it-yourself bug sweep with high-end instruments, or low-end gadgets isn't advisable or cost-effective. Help from a Technical Surveillance Countermeasures (TSCM) specialist is your next best step. Read How to Choose a Competent TSCM (Technical Surveillance Countermeasures) Consultant, or contact us directly with your questions, or a request for a referral.
###
Kevin D. Murray CPP, CISM, CFE, CDPSE is a business counterespionage consultant and TSCM specialist with over four decades of experience.
Murray Associates is an independent security consulting firm, providing eavesdropping detection and counterespionage services to business, government and at-risk individuals.
Headquartered in the New York metropolitan area, a Murray Associates team can assist you quickly, anywhere in the United States, and internationally.