Kevin D. Murray has over four decades of eavesdropping detection, investigative, and technical field experience. He is an authority on matters of electronic surveillance detection, information security, corporate espionage, and corporate counterespionage.
Over the years, he has shared his knowledge and expertise by authoring TSCM publications, textbook chapters, magazine articles, and his own book, Is My Cell Phone Bugged?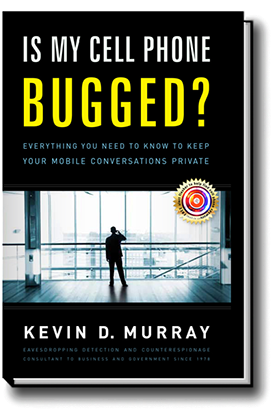 Purchase one autographed copy. ($17.95 + shipping)

Or, multiple unsigned copies as welcomed gifts for friends and clients.

Eavesdropping Detection Text Book Chapters and Other TSCM Publications by Kevin D. Murray
Reid, Robert N. Facility Manager's Guide To Security: Protecting Your Assets. Lilburn, GA: Fairmont Press, 2005. Chapter 12. (ISBN 0881734799)
Rothfeder, Jeffrey. Privacy for Sale: How Computerization Has Made Everyone's Private Life an Open Secret. New York: Simon & Schuster, 1992. Chapter 9, "Shadow of Technology." (ISBN 067173492X)
Schnabolk, Charles. Physical Security: Practices & Technology. Boston: Butterworth-Heinemann, 1983. Eavesdropping & Countermeasures chapter. (ISBN 040995067X)
Security Management magazine articles. The journal of the American Society for Industrial Security.
Sennewald, Charles A. CPP. Security Consulting – Third & Fourth Editions. Boston: Butterworth-Heinemann, 2004. Chapter 15, "A Successful Security Consulting Business Stands on a Tripod." (ISBN 0750677945 / 0123985005)
Shannon, M. L. The Phone Book: The Latest High-Tech Techniques and Equipment for Preventing Electronic Eavesdropping, Recording Phone Calls, Ending Harassing Calls, and Stopping Toll Fraud. Boulder, CO: Paladin Press, 1998. Sidebars and illustrations. (ISBN 0873649729)
Shannon, M. L. The Bug Book: Wireless Microphones & Surveillance Transmitters. Boulder, CO: Paladin Press, 2000. (ISBN 1581600658)
Swift, Theodore N. Wiretap Detection Techniques: A Guide To Checking Telephone Lines For Wiretaps. Austin, TX: Thomas Investigative Publications, Inc., 2005. (ISBN 0918487056)
Walsh, Timothy J., and Richard J. Healy. The Protection of Assets Manual. Aberdeen, WA: Silver Lake, 1987. Section 15, "Electronic Eavesdropping Detection." (ISBN 0930868048)
Periodicals: The Legal Investigator, PI Journal (cover story), Full Disclosure, World Association of Detectives News… and many more.
Arrington, Winston. Now Hear This! Electronic Eavesdropping Equipment Designs. Chicago, IL: Sheffield Electronics Co., 1997. Electronic Countermeasures sections. (ISBN B0012K8WKW)
Bottom, N. R., and R. R. J. Gallati. Industrial Espionage: Intelligence Techniques & Countermeasures. Boston: Butterworth-Heinemann Ltd., 1984. Electronic Counterintelligence section. (ISBN 0409951080)
Guindon, Kathleen M. A.M. Best's Safety & Security Directory. Oldwick, NJ: A.M. Best & Co., 2001. Chapter 15, "Spy vs. Spy: Everything You Need To Know About Corporate Counterespionage." (LoC Catalog Card Number 74-618599, ISBN B000VU9PI2)
Johnson, William M. 101 Questions & Answers About Business Espionage. N.p., Shoreline, Washington: The Questor Group, 2003. Questions and Answers section. (ISBN 1591096227)
Krieger, Gary R. Accident Prevention Manual: Security Management. N.p., Itasca, Illinois: National Safety Council, 1997. Chapter 20, "Communications Security." (ISBN 087912198X)
Lee, Edward L. II. Staying Safe Abroad: Traveling, Working & Living in a Post-9/11 World. Williamsburg, MI: Sleeping Bear Risk Solutions LLC, 2008. Eavesdropping Detection section. (ISBN 0981560504)
Mars-Proietti, Laura. The Grey House Safety & Security Directory. Amenia, NY: Grey House Publishing, 2004. Chapter 16, "Eavesdropping Detection." (ISBN 1592370675)
Montgomery, Reginald J., and William J. Majeski, eds. Corporate Investigation – First and Second Editions. Tucson, AZ: Lawyers & Judges Publishing, 2001 & 2005. Chapter 5, Electronic Eavesdropping & Corporate Counterespionage. (ISBN 0913875635)
Murray, Kevin D. Is My Cell Phone Bugged? Everything you need to know to keep your mobile communications private. Austin, TX: Emerald Book Company, 2011 (ISBN: 978-1-934572-88-7)
Murray, Kevin D. Business Spies . . . and the Top 10 Spybusting Tips They Don't Want You to Know! Oldwick, NJ: Spybusters, LLC, 2010. (ISBN B003VYCDRK)
Murray, Kevin D., Quit Bugging Me – Your plan for stopping snoops and eavesdroppers without buying detection gadgets or hiring a sweep team Oldwick, NJ: Spybusters, LLC 2010 (ASIN: B003URRNAU)
Murray, Kevin D., Quit Tapping Me – How you can find residential wiretaps yourself. Oldwick, NJ: Spybusters, LLC 2010 (ASIN: B003URRRHY)
Murray, Kevin D. Electronic Eavesdropping & Industrial Espionage: The Missing Business School Courses. Oldwick, NJ: Spybusters, LLC, 1992–2010.
Have a Question About TSCM?
If you have any questions about the TSCM services provided by Murray Associates, simply fill out the form below, or call us from a safe area and phone.
If you think you are under active electronic surveillance, or believe you have discovered a bug or covert video camera, go to our Emergency TSCM page. The procedural checklist there will tell you exactly what you need to do next.