Spycam Detection Training
for Businesses and Individuals
(with Spanish, Korean and English closed captions)
Hidden Camera Detection Training Course
Spy Cameras or Spycams Are a Major Privacy Issue.
CNN reports, Hundreds of motel guests were secretly filmed and live-streamed online…
"Two men have been arrested and another pair investigated in connection with the spy camera scandal, which involved 42 rooms in 30 accommodations in 10 cities around the country."
—–
The Spycam Detection Dilemma
Most victims never know they have been recorded by a spycam.
Perpetrators are rarely caught—even when a covert spycam is discovered, or the videos and photos become public.
Spycam Facts…
Cases reported in the media are just the tip of the iceberg.
Victims face extreme embarrassment, and often blackmail.
Spycam videos and photos multiply forever on the internet.
Organizations providing expectation of privacy areas for the general public, visitors and employees are often hit with massive lawsuits.
Hidden Camera Detection Training
The Murray Associates spycam detection training course was created at the request of one of our Fortune 50 corporate clients.
This is their story…
An employee found a spycam hidden in the restroom. The person reported it to the company, and the police. Word got out. The news media jumped in. It was an embarrassing mess. The company asked us to help prevent future incidents. They also wanted to assure their employees that they were taking the situation very seriously.
Sending Technical Surveillance Countermeasures (TSCM) teams to inspect all their restrooms and locker rooms (worldwide) was impractical. Instead, we created on-line training for their local facilities managers and security staff. A comprehensive official company Recording in the Workplace policy fortified this strategy. Our solution is extremely cost-effective, and is being used to this day.
Spycam Detection in Workplace Expectation-of-Privacy Areas, is now available to all organizations, and the general public.
How to Fight Back
Businesses and individuals can fight back against video voyeurism. The one-hour Spycam Detection Training course includes:
• a course syllabus,
• a written 'Recording in the Workplace Policy' template for employers,
• an inspection plan which documents the protection efforts,
• and a course 'Certificate of Completion'.
This protocol shows serious due diligence, should a case go to court. Adopting this solution reduces the risk of video voyeurism, damaging publicity, and expensive law suits.
This solution to the underestimated spycam epidemic has three elements: training, a written policy, and a self-inspection program. It is the only course of its kind.
SpyCam Detection Training is recommended for:
• business security personnel,
• building facilities personnel,
• retail store managers,
• private investigators,
• condominium association managers,
• landlords & home renters,
• property association managers,
• targets of activist groups,
• hotels, gyms and real estate companies.
SpyCam Detection Training is also recommended for:
• law enforcement personnel,
• security management students,
• and the general public seeking protection from video voyeurism.
SPYCAM DETECTION is not recommended for people interested in learning how to plant spy cameras, or build spy camera enclosures.
Facilities Managers, Private Investigators, Security Officers: When asked, "Can you check for spy cameras?" Be prepared to say, "Yes."
"Foresee-ability creates responsibility"
Student Reviews
"Having performed TSCM work for over 40 years I actually learned things from this course that I was not aware of. This course is worth the cost even double the rate."
|||||
"In all fairness, I know a lot about this stuff as I've been subscribed to Kevin Murray's blog for years, still cool, I just went and tested the remote control to cell phone camera and it worked, learned something new, impressed by that." 🙂
|||||
"Excellent training on a topic that the industry is trying to keep secret. The included documentation is very relevant to web links. No special equipment is necessary to do a search, sometimes a cell phone is enough. Several examples with photographs. I recommend this course to everyone because it raises awareness about the risks of being monitored without our knowledge in public places and in our workplace. Mr. Murray is great, lots of experience, and an amateur radio operator: 73."
|||||
"This class is awesome. Incredibly interesting and it opened my eyes to a problem I did not know existed. I feel after watching the videos I can help combat the problem by doing a visual review when I use public facilities like my gym. Thank goodness you put together this course, I would hope that every manager of a retail or consumer establishment with public restrooms would take this training and implement the recommended procedures. The best part is the "non-techy" instructions and the very informative PDF download."
|||||
"I respect the instructor immensely. Was introduced to him and his company through his SpyWarn app (top notch, no B.S.) and the free e-book that accompanied that purchase."
Other Notable Spy Camera Cases
Note: Most workplace video voyeurism cases against employers are settled out-of-court, for undisclosed sums.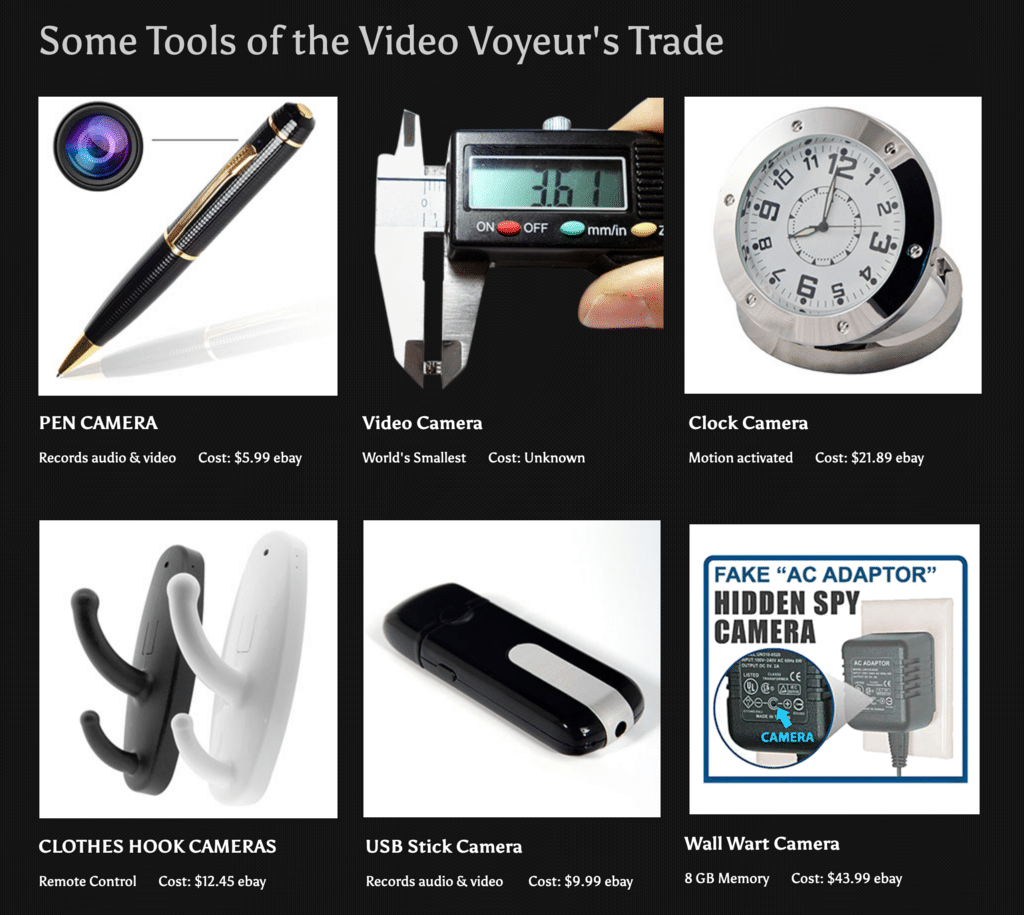 Visit Spycam Detection Training
Have a Question About TSCM?
If you have any questions about the TSCM inspections provided by Murray Associates, download our brochure, drop us a note, or call us from a safe area and phone.
If you think you are under active electronic surveillance, or believe you have discovered a bug or covert video camera, follow the directions above and visit our post "I think I found a bug. What do I do?" The procedural checklist there will also tell you exactly what you need to do next.