The AudioWow Advertising is Enticing – Wireless Audio Studio Microphone in A Matchbox Size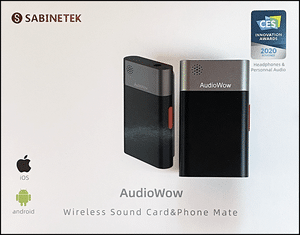 "With the AudioWow app, you can set gain, noise reduction, reverberation, sound change, mixing, microphone, music EQ, and many other functions." A nano-sized: audio mixer | podcast kit | recording studio | recorder & transcriber | interview microphone | conference call enhancer.
ULTRA-COMPACT WIRELESS AUDIO STUDIO: SabineTek AudioWow is actually a studio console in a matchbox size (1.77 x 1.06 x 0.47 in, .53oz). Built in DSP, equalizer, sound changer, noise reducer, and reverb – to create perfect sound performance.
BLUETOOTH MICROPHONE: This ultra-compact AudioWow contains all the functions of the SabineTek SmartMike+ as a bluetooth wireless microphone, and can easily capture professional quality sound wirelessly from a long distance (up to 50 feet).
EXCELLENT REMIXING MIXER: Powerful remixing and sound processing function, makes this lavalier mixing microphone perfect for podcasts, video/vlog recording, gaming, live streaming, online conferencing, and music mixing.
MULTIPLE FUNCTIONS IN ONE DEVICE: AudioWow creates professional-grade phone calls or meeting recordings with noise reduction, Bluetooth earphone, audio to text transcription (over 120 different languages), voice changing filters, karaoke mode, recording for fun and more.
PERFECT FOR CONTENT CREATORS: With AudioWow, you have a recording studio in your pocket. Connect AudioWow to your smartphone via Bluetooth, and open our AudioWow app to record audio and shoot video. You can create the perfect videos and audio content on your smartphone anywhere!
But Could AudioWow be a Useful Spy Tool?
Certain features pointed in that direction…
Nano sized.
Records directly to a smartphone.
Up to 50 foot range. Good enough for some operations.
Bluetooth transmission. Low probability of intercept.
Professional quality sound.
Equalization capabilities.
Noise reduction capabilities.
Audio to text transcription… in 120 different languages!
Time to Test One
Step 1: Charge it up.
Step 2: Download the app.
Step 3: Turn it on and pair it with the phone.
Step 4: (Boing) It wants to update its firmware.
All steps went smoothly. Now, to put it through its paces.
AudioWow TSCM Detection Test Results…
Audio Quality and Sensitivity: Subjectively speaking, sound quality was very good. The closer to the AudioWow the better the sensitivity, of course, but it will pick up all sounds in the area with good intelligibility.
Noise Filtering: If you don't want to record all sounds in the area, like wind, air conditioner hum, etc., its filter has various levels of control. Level 1 works well. As you go to levels 2-4 the audio becomes increasingly hollow sounding.
Ease of Use: The AudioWow only has one switch. It controls on/off (3 second press) and record start/stop (1 second press). Perfect if you are using it as a lavaliere microphone. But if you are a spy, you can also start and stop recording from the app itself.
Battery Life: The manual states 5-6 hours. That's quite a long while given the small battery, but understandable given it transmits using Bluetooth BLE, the LE meaning Low Energy. I didn't test the operational time but it is probably enough time for last-minute, opportunistic spy missions. For longer, in-situ missions I suspect our spy would attach it to a hidden charging cube for unlimited operation.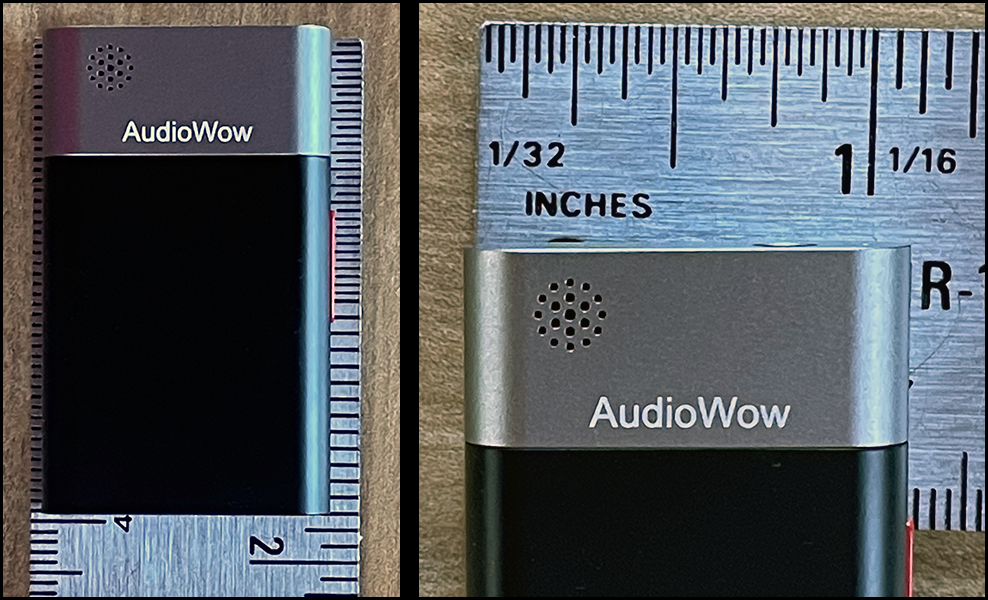 Distance: The specifications say "up to 50 feet." That would be in open-air surroundings with limited radio-frequency (RF) competition from other devices operating in the 2.4 GHz band. Our tests in a moderate RF environment yielded ≈30-35 feet.
Methods of TSCM Detection
We considered four methods of detection which the average Technical Surveillance Countermeasures (TSCM) technician might use to find devices like this.
1. Non Linear Junction Detection
Using an REI ORION 2.4 NLJD the detection range (red bar) peaked at ≈3 inches when the NLJD was set at 50% power output (green bar), and ≈6" at 100% power. This was best case while holding the NLJD in one position, and when sloooowly sweeping over the device with the antenna head.
The probability of detection dropped dramatically when the sweeping motion was faster.
Another observation… the angle of the AudioWow with relation to the antenna head made a big difference to the detection distance.
Takeaway… Sweep slowly, and even if your NLJD has a circularly polarized antenna, go over the same area at a multiple angles for best results.
2. Infrared Thermal Imaging
"Nothing to see here. Move on." As with most small battery operated devices, there is not enough differential in temperature to create an attention getting an infrared thermal detection image.
3. Radio-Frequency Spectrum Analysis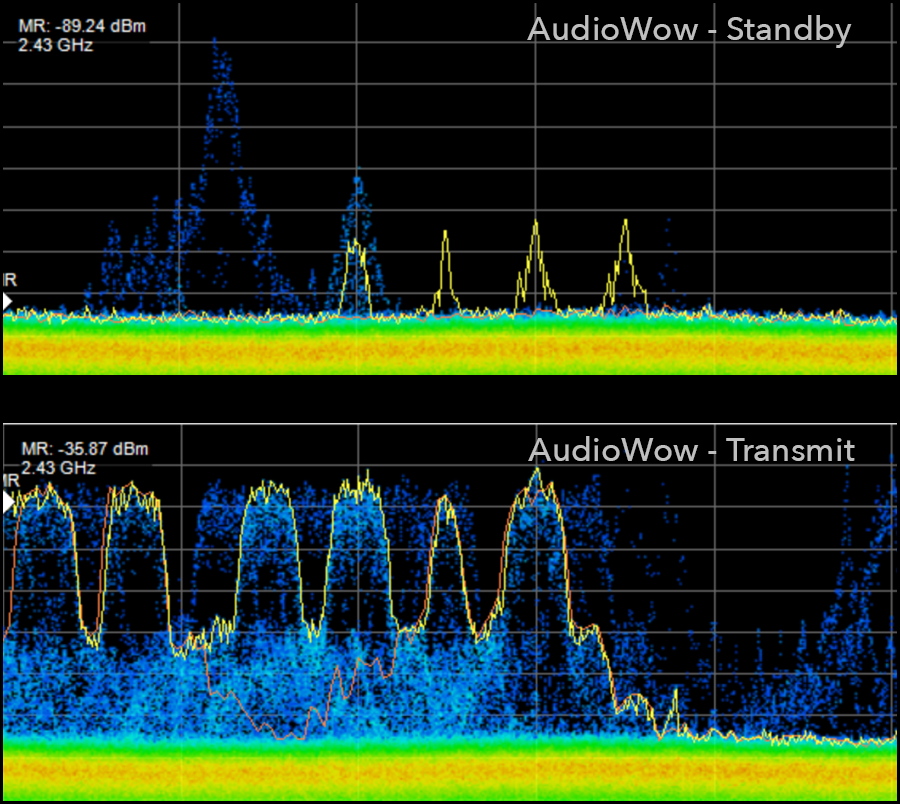 We had a bit of a head start on this test and knew what to expect. Our colleague, Charles Patterson, had previously shared some of his insights on Bluetooth BLE microphones with us.
For our tests we used a Tektronix 306B spectrum analyzer with proprietary DPX® technology and SignalVu-PC Vector Analysis software.
Strong AudioWow emissions in the Bluetooth frequency range (2400 to 2483.5 MHz) were only seen when the device was actually being used to make a recording. When the AudioWow was in standby mode the RF signature was barely noticeable. This is Bluetooth BLE's secret to conserving battery life. Given this stealth, common spectrum analysis methods cannot be relied upon to discover an AudioWow wireless microphone. Or, any other BLE microphone for that matter.
Currently, the eillisys BEX-400 is believed to be the best detection instrument for Bluetooth BLE. Due to it's cost ($30-40K depending upon options) it is not in most TSCM kits. (Please let me know if something more cost-effective arrives on the scene.)
4. Physical Search
The physical search is arguably the most important TSCM detection technique. The key here is knowing what you are up against. We hope this paper helps you with that.
###
Murray Associates is an independent security consulting firm, providing eavesdropping detection and counterespionage services to business, government and at-risk individuals.
Headquartered in the New York metropolitan area, a Murray Associates team can assist you quickly, anywhere in the United States, and internationally.
EXTRAS:
• More security tips, spy and privacy news at spybusters.blogspot.com. Be sure to sign up for the free email updates.
• Concerned about Spy Cameras? Learn how to detect them.