Mobile Device Spyware Detection
Conducted on-site or FedEx to our lab.
Safe. Convenient. Private.
Professional Forensic Spyware Detection
It isn't for everyone. However, sometimes you need-to-know for certain, and have it professionally documented and removed. That's when you come to us.

Examples of need-to-know situations…
Corporate executives who travel internationally with their devices.

Anyone involved in high stakes lawsuits, mergers, acquisitions, or politics.

Participants in sensitive business dealings.

Disputes with significant others.

Stalking and harassment cases.
If thoughts of eavesdropping are new to you, pay attention. Your intuition is telling you that something is wrong. Too many "coincidences" have tipped your inner warning scale. Your subconscious alert is sounding a real alarm, just as surely as the smell of smoke reminds you of the food left burning on the stove. Trust your judgment. Something is wrong. These thoughts don't come to the average person randomly.

What Spyware Does
The following is a feature list from one of the most popular spyware programs.
Manage calls
• Monitor calls
• Restrict incoming calls
Track text messages
• Sent / Received SMS
• Read Messaging Apps
• WhatsApp
• Snapchat
• Facebook Messenger
• iMessage
• Skype
• Telegram
• Hangouts
• Tinder
• Line
• Viber
• Kik
• Instagram
Track Locations
• Current GPS Location
• Geo-Fencing
Control Apps and Programs
• Installed Applications

• Application Blocking
• Keylogger
View Multimedia Files
• Photos
• Videos
Monitor Internet Activity
•Browsing History
• Website Bookmarks
• Blocking Websites
• Wi-Fi Networks
• Keyword Alerts
Read Emails
• Incoming / Outgoing Emails
Access Contacts and Calendar
• Calendar Activities
• Contacts
Remote Control
• Device Locking
• Additional Device Info
• Control Panel
Analyze It
• Comprehensive Reports
The good news is, you don't have to wonder and worry. With a deep spyware detection exam you will know for certain.
How to Schedule a Spyware Detection Inspection
Contact us, from a safe phone or computer. Tell us your concerns.

We will prepare a written estimate for your forensic spyware examination.

Engage our services via a retainer.

We will schedule a mutually convenient time for our forensic technician to visit your location, or send us your mobile device via FedEx.

Upon completion of the exam you will receive a verbal report, followed up with a written report.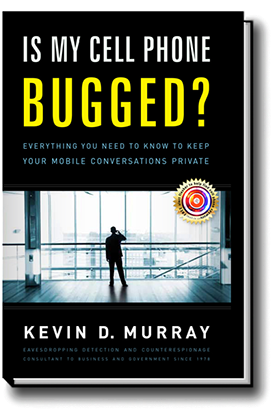 Just curious? Read our book…
Is My Cell Phone Bugged?
website | amazon.com

Additional notes about our spyware detection services…
Spyware detection is conducted using law enforcement level forensic technology.

Inspection of multiple mobile devices during one session are discounted.

Spyware detection can be conducted in conjunction with our TSCM inspections.
We fully respect your privacy and confidentiality. Results are reported only to you.

DOWNLOAD OUR FORENSICS BROCHURE
Have a Question About Spyware Detection?
If you have any questions about the spyware detection inspections provided by Murray Associates, simply fill out the form below, or call us from a safe area and phone.
If you think you are under active electronic surveillance, or believe you have discovered a bug or covert video camera, go to our Emergency TSCM page. The procedural checklist there will tell you exactly what you need to do next.