---
X-ray Analysis – Top Level Assurance

X-ray analysis during TSCM inspections offers the most assurance a room object isn't bugged.
We don't recommend this inspection service for everyone. Primary TSCM inspection techniques are excellent for most situations. But, when the stakes are high enough—and the opposition is sophisticated enough—a Murray Associates TSCM X-ray deep clean is the logical option.
There are also times when a TSCM X-ray deep clean is just smart due diligence.
Types of X-ray analysis services offered:
On-site, when we are conducting a Technical Surveillance Countermeasures (TSCM) inspection for you.
On-site, to inspect multiple new items entering your environment, such as new telephones, keyboards, computer mice, etc.
Objects may also be mailed to us for X-ray analysis in our office lab. Contact us for details.
We can also apply discreet security seals to inspected objects. There is no additional charge for this. This your assurance the item hasn't been tampered with after our inspection.
Here are some interesting examples of our X-ray analysis TSCM inspections. (Click images to enlarge.)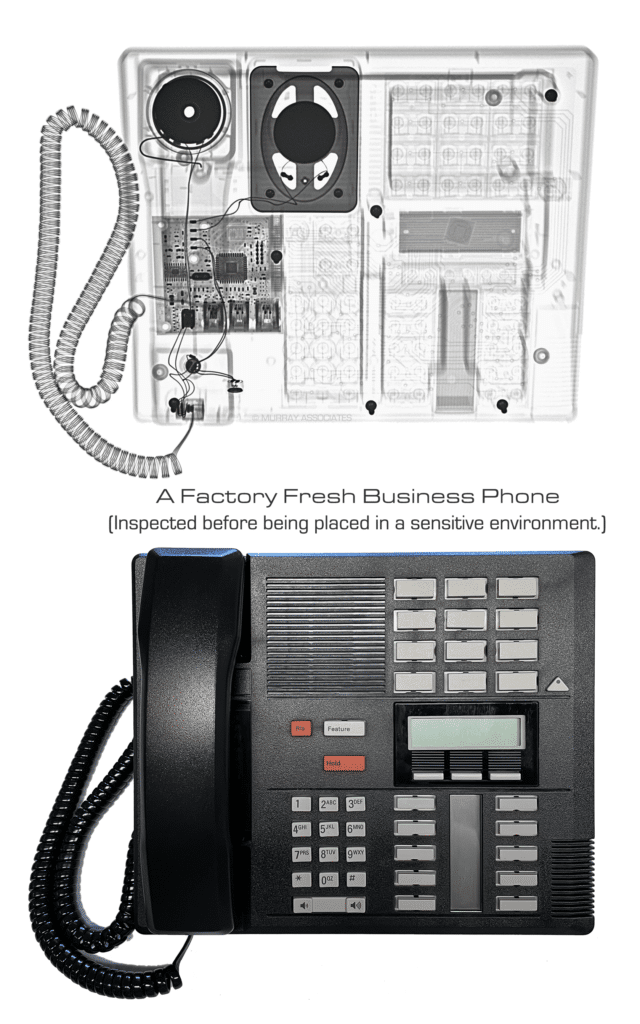 Before bringing new technology into sensitive workplace areas, have them inspected and sealed. The Trojan Horse trick works as well now as it did then.

Desk calculators are some of the most often bugged office items. This one is a GSM cellular eavesdropping device. The eavesdropper can silently dial in and listen from any location, at will. Some bugged calculators will automatically dial the eavesdropper whenever they hear a sound. Many versions of the GSM calculator bug are being sold on the internet. See if yours looks like one of these. Just do a search for "GSM calculator bug", or click here.
USB charging cables are now being sold with spying capabilities. Because they look identical to legitimate cables we inspect them during our TSCM inspections. We can teach you how to do it, too.
Some people still use pagers. Others, have left their old pagers "on the shelf". Be a bit suspicious the next time you see one.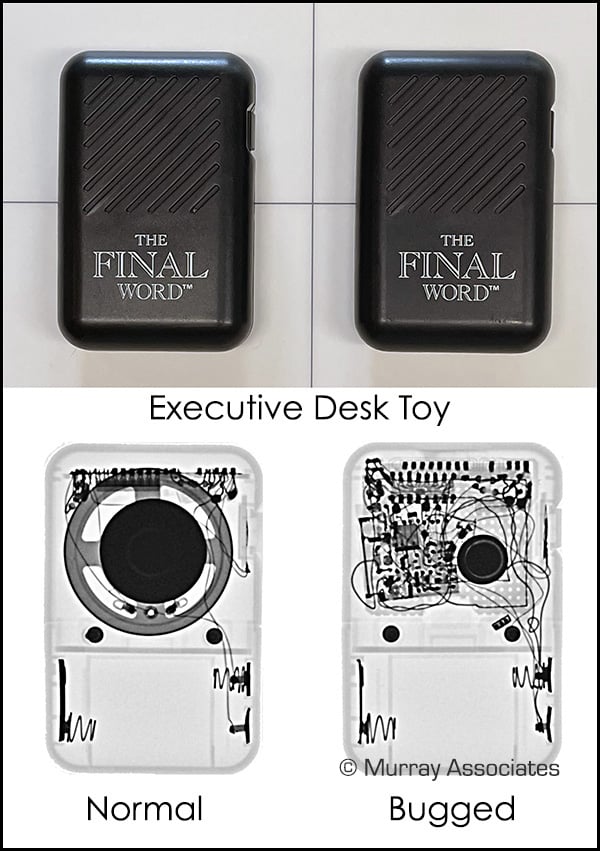 These two executive desk toys look identical from the outside. Both are fully functional and do exactly the same thing; shout random nasty phrases when the side button is pressed. The one on the right has an extra talent built into it. It is an eavesdropping radio transmitter.
Executive desk toys and gadgets populate many of the offices we visit. They make excellent hiding places for bugs; sometimes arriving as Trojan Horse gifts. An X-ray analysis can provide assurance that none of your toys are bugged.
A miniature transmitter secreted in a telephone handset.
(Not a good feeling.)
Click here for more amazing TSCM X-ray photos.
---
Murray Associates Technical Surveillance Countermeasures and eavesdropping detection sweeps employ a variety of advanced TSCM technologies.
---
Have a Question About TSCM?
If you have any questions about the Spectrum Analysis or the TSCM services provided by Murray Associates, simply fill out the form below, or call us from a safe area and phone.
If you think you are under active electronic surveillance, or believe you have discovered a bug or covert video camera, go to our Emergency TSCM page. The procedural checklist there will tell you exactly what you need to do next.